The Bouncy Ball Technique (or to be technical – Bi-lateral Stimulation!)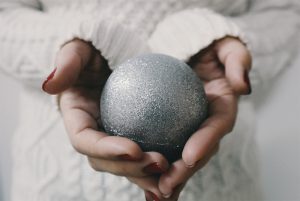 I call it the bouncy ball technique, just easier to say and remember! I share this technique with my stress management clients. It's very simple but effective and all you need is a smallish bouncy ball or any kind of small object you can easily pass from hand to hand e.g. a pen, lipstick, keychain etc. This helps to activate both sides of your brain, diffusing the area holding together the stress/tension, spreading blood flow and electrical impulses throughout.
When you feel stressed or anxious, evaluate the feeling on a scale of 1 to 10, then do the following to reduce that feeling:
Hold you arms out in front of you, resting your elbows on your rib cage (one arm will always remain in the center of your body as you do this).

Start to pass the bouncy ball from hand to hand, moving each arm in and out as you do so.

Close your eyes and take deep breaths as you do this.

Do this for one minute, then stop and evaluate how you feel.

Repeat if you need to to reduce your stress/anxiety even further.
Give it a try and let me know how this works for you!
A Helpful Technique to Reduce Stress and Anxiety