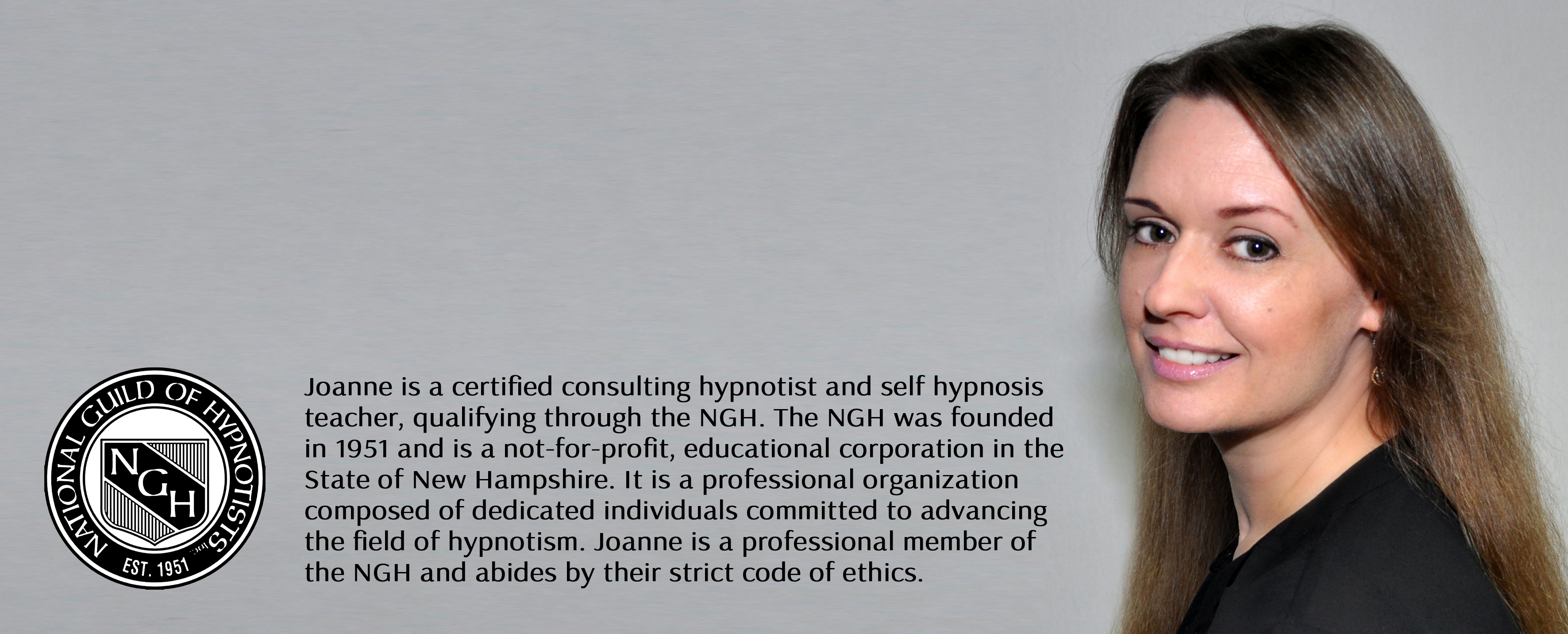 Joanne Grant, CH
Joanne has had a lifelong gift and ability. During her formative years growing up in the small coastal town of Burntisland in Scotland, Joanne naturally began a process of self-hypnosis. Whenever she felt the need to retreat, relax or rejuvenate she would bring herself into a deep state of relaxation, through focus and meditation, which would transform her unease into a calm and centered state of being. Self hypnosis carried her through all of the challenges that presented themselves in her youth. She continued to hone that skill throughout her adulthood.
Upon arriving on the South Shore of Massachusetts seven years ago, Joanne began to explore the idea that there was a greater calling for her. She had been a graphic designer throughout her whole professional career and although she had loved being a designer, and the expression that her art provided for her, she just knew there was more for her to do. She felt a real need to help people, people with everyday problems. Once that idea had taken root, her life began to change. She was given a book called Many Lives, Many Masters, which was awe inspiring. Shortly thereafter she started to notice advertisements for hypnosis training that seemed to be calling to her. In retrospect she felt guided to seek out training.
Joanne's professional training through the National Guild of Hypnotists (NGH) was when it all just clicked. She knew she had found her true calling in life. She recognized that this was not only a skill she was mastering but a gift that she had from an early age. Her passion for her work comes from that calm and centered state of being that she now brings to her clients. She helps them to transform their challenges to triumphs and that is the true gift of her work.
As well as her home practice in Marshfield, Joanne holds self hypnosis workshops and weight loss group sessions on the South Shore MA, in Norwell, Duxbury, Plymouth and Pembroke.
Joanne also reads the tarot for interested clients at her home practice. She learned the tarot over 15 years ago and offers a unique 3-deck reading. The readings are fun, informative and can help her clients with the many challenges of life, steering them towards a path that feels right for them. She also does readings at fairs with her local artisans group, The Artisans South Shore Co-op. Being an avid crafter herself (The Scottish Crafter), Joanne helped form this co-op to help other artisans in the south shore area to have a place to showcase, advertise, buy and sell their handmade/homegrown items. 
To schedule a complimentary meeting please go to our contact page.